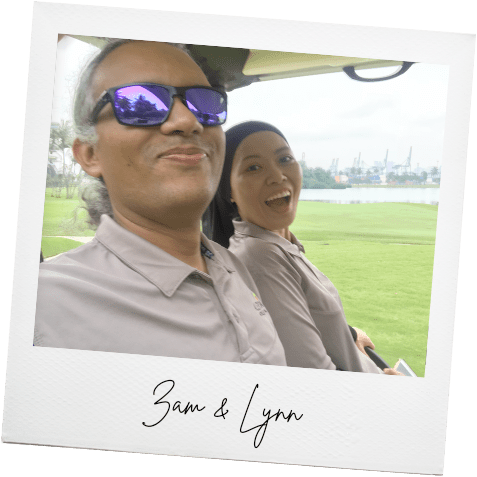 Hello, dear reader! We are Zam and Lynn, the husband-and-wife team behind the company. This is our story…
Prior to Aleyda, we were working in the education and technology sectors, where we had endured persistent musculoskeletal pain brought about by physical and psychosocial stressors from our jobs. A chance encounter with massage therapy, which set us on the road to recovery, convinced us of the healing powers of touch.
We have since made it our mission to spread healing and help others "feel whole again". To exemplify our work, we chose "Aleyda", a Greek name that personifies wisdom, creativity, inspiration and strength. To us, it represents a person who is in a state of complete wellness, living the best version of oneself.
Aleyda Mobile Spa was born in 2010 primarily to provide pampering and relaxation services in the workplace and home. Over the decade, we have expanded to include therapeutic modalities in our treatments and conduct workplace wellness programmes.
From a four-person outfit, we have since grown to be 23 staff strong. Our team of experienced massage therapists are personally trained by us to ensure the signature therapeutic and restorative Aleyda touch is infused in every client interaction.
We turned 10 in 2020, right in the middle of the Covid-19 Pandemic. We are convinced, more than ever, that access to credible health and wellness education is especially critical during this crisis to help people cope and emerge stronger than before.
Education is not new to us. For years, Aleyda has worked quietly with corporate clients to design and deliver workplace wellness content that combines our expertise in massage therapy, ergonomics and functional exercise.
We feel we are now ready to go further. It is our hope that we can empower people with the skills and knowledge to restore their health and wellness to the fullest potential.
We are excited by the possibilities ahead and we look forward to continuing our journey to wholeness with you.
If you are interested in what we have to offer or would simply like to have a conversation on working together, contact us at